Olympic Knitting, Revisited
Edited to add: I meant to first and foremost, thank
Franklin
for the lovely and totally fitting gold medal he designed. How appropriate to use a classic Greek design and adapt it to the knitting motif! Having lived in Greece for 3 years, I especially appreciated his inclusion of the Olympic's "roots."
I realized this morning that I never did post a photo of all the socks I completed during the Knitting Olympics! So, I am here to remedy that slight error. I do have the excuse of jury duty, right? Two long days at the Court House makes it hard to keep up with the other chores and joys of life! Anyway, without further ado, here they are!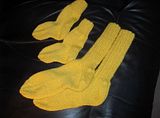 I am really pleased. Especially since I wasn't at all sure I could complete one sock, let lone a pair, or even more. My only regret is that I spent so much time trying to master the short row heel, rather than continuing to knit what I already knew from my first sock--the heel flap. I am sure I could have completed at least another pair or two. I do still have to knit the mates for the little socks, but I hope to get that started this weekend.
I have a feeling there will still be enough of the yellow yarn to knit more little socks (after mating the shown little socks), and I have the green kool-aid dyed yarn Anne gave me to knit up into little socks too. After reading on the CIC site that most often the socks are worn indoors, without shoes, I realized that knit slippers really are of value to them too. I think I will knit up some slippers from the slipper pattern my grandmother used to make.
I still have to weave in ends, photograph, and show you all the things I knit while Anne was doing the pt for her neuropathy after her surgery. I knit a baby blanket, and two hats. Look for them soon.