First Little Sock Done!
Yesterday, I finished Little Sock One. Well, I guess he is really Little Sock Two, as LS One is the one with the heel problem? Anyway, LS Two is done! I finished him last night, and would have gotten back to work on LS One, but the Olympics are on, and exciting things were happening, like speed skating, etc. So, I had to watch, right? Anyway, here he is!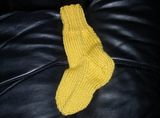 Humm, can't tell what size he is, can you? Well, here is a pic of him with one of the Olympic socks, for comparison!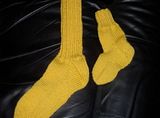 Quite a difference, eh? I hadn't realized how much till I put them next to each other.
I do, despite the late hour of the afternoon, with the day rapidly getting away from me...plan to finish LS One, and have hopes of finishing him before the Olympics end. We will see. I will, at least, be glad to have two pairs of Olympic socks completed for the orphans! Anne gave me some green yarn, wool, to use for more socks, so my knitting for orphans is not over, by a long shot. Not that I expected it was. It isn't something you just do for the Knitting Olympics and then just quit.
Well, off to blog on the other blog and then back to knitting!