Sock Done, But Not......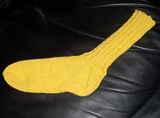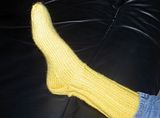 I finished the sock yesterday evening. Yesterday turned out not to be a knitting day, so all I did was graft the toe. I tried casting on the second sock, and I found that I don't like the info in one of Anne's knitting books on the arrangement of the stitches, connecting, etc, for knitting on two circulars---I will have to cast on again and consult the computer. Not a big deal though.
As to the grafting on the above shown and modeled sock (thank you, sock model Anne!), I put the stitches on tiny needles, so I could better see what I was doing. I got the method and stitching of the Kitcheners just fine. However, I don't like the way it looks. The directions all said to be sure to go under the needles, but I am sure that can't be right in the long run, as it leaves two ridges, one on each side, from the stitches picked up and grafted. I don't really like the look of the wedge part of the toe either, to tell you the truth. I can see that there are advantages, etc, but I don't like the aesthetics of the look. Also, Anne commented that the sock felt a little snug. Being a person of skinny foot, that is something to consider. Although I don't imagine the poor orphans will be fat-footed. Still, the combination of not liking the toe, and the sock being perhaps a bit narrow for the length has led me to the decision to make some changes, hence..."But Not."
I rechecked another sock book, and I really do like the look of the round toe. It is a shorter toe, so I think I can shorten the sock length some (to make the sock width more in keeping with the length) and change to a round toe, and still have enough yarn to complete it--since I had already cut and woven in the end. This will work!
Meanwhile, I need to run to the base, so will bring this to a close, and will hopefully be able to show you the new and improved finished sock, and the start of sock two, when I blog tomorrow!