Monday's Knitting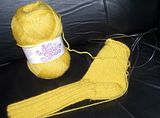 This is how the sock looked at the end of the day, Monday. As I mentioned yesterday, I did some knitting in the morning, before the doc appt. I didn't do much more knitting during the day/evening, as I was busy on the computer, did some household stuff, Anne and I made a trip out of the house, per her doctor's orders (!!), etc! I even watched a good bit of the Olympics in Torino.
I think the foot length (from ridge at heel towards the toe) was about 4 inches at this point. Anne was curious last night and made a guess of 4 inches, then measured it and was spot on. Isn't she good?
I have knit another inch onto it today already. Alex Anderson's show today was something I wasn't interested in, so I put the TV back on the Today show, and my fingers were itching to knit, so I did! Haha. Then it was computer time, and talking to Brian on IM, so I haven't had time to do any more knitting. That will come this afternoon when I take Anne to pt---I almost forgot I would take my knitting!
Take care, happy knitting, and I will be back tomorrow!