Olympic Knitting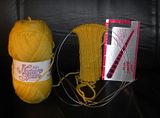 So, here is what I have at the end of day one. To recap......
First I tried out the figure 8 cast on, which would not work for me. Rather than waste time, I dumped that, and decided I would knit from top down. Not a problem! First I decided to go ahead and try dpns, since the pattern I had printed out used them. I did get it all cast on, etc, and it was fine, and knit a few rows, but it all felt so pokey with the dpns, and also, I didn't feel I was getting the junctions tight enough. It just wasn't feeling good. So, I ripped it out, cast on again on a circular, and went to consult the computer, as it had suggestions on connecting the knitting, and getting the second circular in use. All fine there, and I got to work.
The knitting is going well. It felt a bit awkward at first, but once a few rows had been knit, it went along much better. I really got into the swing of it, and am enjoying it. I can see that shorter circulars would be nice, these are 29 inches and it is way more length than I need. On the other hand, it doesn't make a huge difference, and I haven't grabbed the wrong end yet. I really like the knitting on two circulars, it is quite comfortable.
Details! I decided to knit on size 4 (US) needles, and I am glad I did. I think my knitting tension is loose enough that size 5 needles would have made the socks looser than I would have liked. I chose to continue the ribbing down the leg, it is a K2, P2 rib. The directions gave a number of suggestions, but I felt ribbing down the leg would provide more hold for the kid who wears them some day! I don't remember the brand of yarn, it is in the photo. The yellow is nice and bright and cheery! It is 100% wool.
The Florida buttons are listed on Kat with a K's button list now! It will just bring you back here though, so.....
Well, I have been up how many hours now and not a stitch of knitting done yet. I am going to have to get off the computer soon, I have been talking to Brian on IM. And, speaking of the Opening Ceremonies, which I wasn't (haha), I loved the part with the guys in costume manipulating the flags the best, as it is something I have seen before in Italy, so it brought back happy memories!