Saturday's Knitting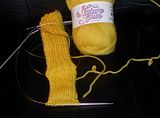 The knitting is going well. I finished the leg section and moved on to the heel flap. I don't think I personally would like this, especially if they were to be worn with shoes. Although Anne suggests that it might be much more comfortable than it looks. This pattern uses slipped stitches, making a more durable heel.
Anyway, I knit the directed length for the heel flap, turned the heel with no problems at all, and then found that the flap is evidently way too long, and there are way too many loops for picking up stitches. The pattern says that the slipped stitch at the beginning of each row provides a handy loop for picking up each of the 10 stitches that are to be picked up. I have more than 10 though! And the heel flap looks very long. I was careful to err on the side of too long rather than too short when I was knitting the flap, and I guess I shouldn't have been. It would have been so much easier had the directions just said "knit ____ rows".
Oh well. I will frog back and reduce my rows. I think the heel flap will look much better, and the sock will too, and I will redo my heel turn! I haven't been knitting a lot each day, partly so as not to strain anything (haha!) and partly so I don't finish too soon. There are household chores to do, Olympics to watch, etc, too! If I don't have any major problems later on (but bearing in mind that I could), I should easily be able to do a whole pair and maybe more? So far, socks are pretty easy, and I am not sure why I thought they would be hard. I am sure that is the cue for it to become horrendously difficult now, with nothing working as it should. Talk about tempting fate!