MARYLAND!!!!!
We arrived at the festival just a tick after 12 noon. Traffic wasn't badly backed up, but there was a bit of a line of cars going in. We turned onto Fairgrounds Road, which is absolutely "right there" and saw a huge sea of cars parked in the fields. Our thoughts at the time included, "wow!" and "how will we ever find our car again?" However, luck was on our side, and we got a spot right at one end, and had no trouble finding it when we were ready to go. Hurrah!
The fairgrounds are pretty spacious, with a good number of buildings, and a lot of vendor tents too. It was very overwhelming. As we first walked in, I really did think at that point that this might be a nice, "one-time deal" kind of thing. I got over it! There was so much to see, and of course, there was no hope of seeing all of it, by any means. So, we just relaxed and saw what we could.
So much yarn, so many beautiful colors, so many different kinds of yarn.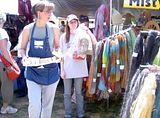 Some randoms shots of yarn! Anne is holding ---- hummm, looks like her cone of lace-weight yarn, and the bag of unprocessed wool she chose. Just a little one! It will be fun to play with, without the worry of having a whole fleece to deal with. The colors are interesting---I am sure she will blog about it later!
By the way, as you might be able to tell from the photos, the weather was lovely. It was sunny and comfortable. Not hot, but warm enough not to need a jacket.
There were spinning wheels, often masses of them in close quarters, at some of the various vendor booths!
Alpacas and llamas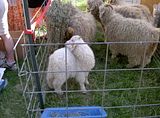 Sheep....
and even angora bunnies!
We had a great time on Saturday. I quickly decided that I could see making future visits to the festival. People were really nice---they would often suggest another shop that had a better price listed for something you were looking at. The vendors were very helpful too! The colors were amazing. There really wasn't much smell at all, which we found amazing considering the number of animals there.
Anne had a chance to spin on a
Lendrum Traveler
, which she really liked. Some other festival visitor was spinning on it when we came up, but she had just goobered up the spinning, and had to go as her bus was about to leave. She turned it over to Anne. The man at the booth was busy, so she was trying to get it going on her own. A woman stopped by and offered assistance and advice. I saw she was wearing a name tag, and got a good look at it---it was Amy Clark Moore, the Editor of Spin-Off, the spinning magazine. She was extremely helpful! She also said this vendor was great---she knows the people and they have a great shop in Kansas. By the way, the vendor/shop is
Yarn Barn
At the end of this very long barn that we were in, there was a spinning area set up, with a number of wheels and ladies spinning. They were happy to let people watch, and try spinning. I tried out two wheels. One I had trouble with, as the wheel had gotten unbalanced, and the winder kept going in reverse--mostly my fault, as I was having trouble getting the treadle going. They switched me to another wheel, which was a little bit better, although I still had the winder-in-reverse problem some of the time. The big thing was getting a chance to try out some wheels, and finding that I could actually spin pretty well on them, when I could get the winder going in the right direction!
I didn't buy much, leaving it to Anne to do most of the shopping. Mike had already brought up the subject of buying a wheel, and I didn't want to go overboard. I picked up some business cards and also made notes on the list of vendors, of places that had things I especially liked---there is always the opportunity to buy online later. There will be photos of the stash additions in another post!
We called it a day by 5 and had no trouble finding the car. We had no trouble getting out of the area either. Traffic control was well handled, with police directing traffic at the important intersections, and when coming into the parking area, Boy Scouts directing the cars. Really worked out well.
I guess this is more than long enough. I will leave Sunday's activities for tomorrow's blogging!