Festival, Sunday
Okay, time to move my brain back into the past and see what I can remember of the day, now that so much time has passed us by.
First off, the weather was clear but very chilly. I was outside first and grabbed my sweater from the car. Brrrr! I think it was in the 40's. But it was pretty clear and sunny, good news for festival going!
We were on the road and at the fairgrounds before 9 a.m. The parking area was not nearly as full as it had been on Saturday, and we got a spot right on the first row. I don't even pretend to understand how they decided to direct people to parking rows, but it worked out great for us! I guess looking back on it, a spot closer to the activities would have been even better, but this spot was easy to find again, and had super easy access out of the area, so it was great.
There were a lot fewer people there, so that made it much easier to see things, and get around in general. We stopped by and watched part of the Sheep to Shawl contest. I think there were 5 teams competing. The sheep had already been shorn, and the spinners and weavers were already at work. Each team had a shearer (who only sheared the sheep, and wasn't allowed to do anything else), 3 spinners, who also carded their wool, and one weaver. I did notice that the spinners didn't fuss about their yarn---some of the spinning was rather rough. There is a 3 hour limit for the whole contest though, so no time to be fussy. The wool was spun, and transfered from the spinning bobbin to the shuttle bobbin. It looked like the weavers already had a good foot or more of shawl woven already. We never did get a chance to check back again. When we got home, I check and found that the group from Mount Vernon (yes, in VA!) won the contest. Here are some pictures of them in action!
There were points given for costuming, and I am sure this group got the max on that. Some of the groups didn't seem to be in any special kind of dress or costume at all, and there was one group that was all dressed in red, white and black. It was very striking, and the wool they were working with was white and black.
We went through all the barns, I think. Some just had sheep and goats, although mostly sheep! Others, of course, were full of vendors, selling yarn, rovings, fleeces, and there were even vendors selling pottery, plants, photos of sheep, etc.! We saw some very interesting things, I must say!
Here is a woman trimming the fleece on the legs of a sheep. She was using hand shears. I wish they had come out better in the picture. I never noticed any electric shears the whole time we were there.
Here is a sheep in his coat. A good number of sheep were in coats, but many more weren't. Some people like to keep their sheep in coats, as it protects the wool, and also helps keep it cleaner and free of vegetable matter. They can often get a higher price for their fleece.
Here is a sheep, I don't remember what kind, but I can find out if anyone wants to know, as it is in the catalog. Notice that it has 5--yes, count them, five, horns. All his friends and family had 4, or two, and we might have seen one who had 3? But this guy had 5.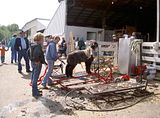 We think this woman was cleaning her sheep for a competition. We came out of a barn to hear and see the sight. The hose she is holding shoots out air, like a vacuum cleaner with the flow reversed. She was giving this critter a good going over, and happened to be on the rear section! You probably can't quite imagine just how funny it was. The sheep was pretty tolerant, but not really happy about it all, it seemed!
I have more photos, but really too many to show. If you want to see more later, let me know!
We finally went back to the big barn, the sight of so many spinning wheels, and off to the booth of the Yarn Barn people. Jim was not busy at all, and spent a lot of time with Anne. She is much more immediately hands on than I am, I prefer to watch a lot first. First she tried out the Ashford Traditional, which is a very nice looking wheel, I really like the looks of it. It was a double drive wheel. Jim told us a lot, and gave Anne lots and lots of practice time. He loves the double drive, but as he says, it isn't for everyone. You have to be able to go at its speed, and some people can't get in sync with it. Anne didn't find it as comfortable as the Lendrum she had tried on Saturday. Next she tried an Ashford Traveller. It was a single drive, double treadle--you use both feet to turn the wheel. This was a much better fit! Anne made real progress after the switch, and really liked it a lot. A good number of people stopped by and watched, and a number thought she was an experienced spinner, thanks to the great instruction she had from Jim! We learned a lot, probably at least as much as we would have learned from one or two spinning classes, and maybe more! As you already know, if you looked at the other blog and saw the saga of putting the wheel together----we got the Traveller. It is a nice little wheel, easy to move and transport, and looks pretty too! Can't ask for much more than that, right? And it doesn't take up a lot of space. Even better! Here is a picture of Anne and Jim, during part of the lesson.
We got the wheel bought, and headed for the car. It was only about 11.20 by the time we left the barn, but we had seen and done plenty and were ready to go. We liked getting a good early start for home. There were a lot of things we had hoped to be and didn't, but we saw more than enough to keep us happy! And we came home with a wheel, so what more could we ask for?!